Safety Signage: Requirements, Options
When we think of a company's most important and valuable resources, what comes to mind? Products? Equipment? While those are all vitally important to any business's success, where would they be without the people who help drive them? Employees are a company's most precious assets, which is why safety in the workplace is a top priority.
Signage plays an important and specific role in every business—from promotional to directional, they help customers and employees feel secure and informed. Safety signage, however, serves an even broader purpose as it not only alerts us to danger but warns us of potential risks and safety requirements in a specific area and protects the company's liability.
With the right signage and proper procedures, many workplace accidents and injuries can be avoided. The key to providing your customers with the perfect signage for their businesses is understanding their needs and their exact safety requirements.
What Signage Is Required?
OSHA (Occupational Health and Safety Administration) American National Standards Institute (ANSI) are today's leading authorities on safety in the workplace—including signage, requirements, and their meanings. These agencies classify safety signs by hazard risk to help determine what sign to use, including DANGER, WARNING, and CAUTION.
When offering safety signs, be aware of compliance standards when it comes to sign color, size, location, etc. Learn more here.
Danger Signage
This sign option is used in areas with the highest level of risk and is the most extreme category of OSHA's three general sign types. They indicate an immediate risk where special precautions are critical; if the hazard is not avoided, it will result in death or serious injury.
Common danger sign examples:
"High Voltage"
"Hazardous Chemicals"
"Open Excavation"
"Fall Hazard"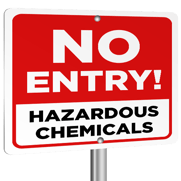 Warning Signage
One hazard level below danger signs, warning signs predict a hazard that requires additional awareness that, if not avoided, may result in death or serious injury.
Common warning sign examples:
"Hot Surface, Do Not Touch"
"Hand Protection Required"
"Eye Protection Required"

Caution Signage
As an accident prevention tag, caution signs indicate potentially hazardous situations that may result in minor or moderate injury if they aren't avoided. Use them to caution against possible injuries from unsafe practices.
Common caution sign examples:
"Watch Your Step"
"Floor Slippery When Wet"
"High Noise Area"

While not always required, directional, prohibition, and notice signs play an important role in the safety and security of employees, visitors, customers, and the company itself.
Directional Signage
An invaluable sign option across all industries, directional signage is mandatory to designate emergency and regular routes within a space. Directional signage plays a key role in aiding in the flow of foot and manufacturing equipment traffic as it helps maintain efficiency and keeps employees safe.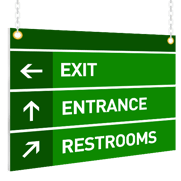 For more information about OSHA requirements click here.
Prohibition Signage
In order to protect the facility and/or its inhabitants, prohibitory signs are used to inform the public of the restricted action, behavior, or item within the sign's vicinity. They commonly include a red circle with a slash over top of an image of the prohibited activity or object.
Common prohibition signs:
"No smoking"
"No food/drink"
"No cell phone use"
"No glass containers"

Notice Signage
Help your customers provide staff and visitors with the notification of safety protocols, rules, and practices with notice signage. Notice signs always have an eye-catching headline: "Notice" which is intended to draw attention to specific activities and expectations that are required within a designated area.
"All Employees Are Required to Wash Hands Before Returning to Work"
"All Visitors Must Sign In"
"This Area Under Video Surveillance"

We Can Help
We have signage solutions to help your customers prepare their workspaces, offices, schools, and more with the proper signage to protect visitors and employees from potential hazards.
Check out these safety signage options:
High-tack adhesive vinyl - With indoor/outdoor durability, these large-scale vinyl signs are designed for maximum visibility and are not meant to be removed after application.


Aluminum sandwich board - With its durable design and mounting options, aluminum sandwich board signs allow your customers to provide directional signage to suit any space. Label stairways, rooms, exit routes, and more.
Sidewalk Signs -

A portable sign solution for important messaging in hallways, parking areas, and more—sidewalk signs offer your customers a fast and portable way to inform visitors and employees of potential risks.
Floor Graphics -

Transform high-traffic floor areas into attention-grabbing spaces to inform of potential risks, safety protocols, and rules with high-traffic floor graphics.
Aluminum heavy-duty .080" - With its indoor/outdoor versatility and heavy-duty/rust-proof design—this sign option is ideal for parking areas, sidewalks, factories, and warehouses to warn against potential danger.
We believe in the importance of keeping employees and customers safe. Share your dedication to safety in the workplace with your customers. Help them understand the important role safety signage plays in employee morale and consumer confidence. Their interest and implementation will demonstrate that they care about their clients' safety, and will help guests feel more comfortable. When guests feel comfortable and gain confidence in a business, they're more likely to visit.
---
Category:
Tags: Signs, Signage, A-Frame